Each year, we orient our collaborative projects around a theme.  This year, that theme is "The Digital Frontier",  celebrating the pioneering spirit of those who push the bounds of possibility by innovating on the frontier of technology.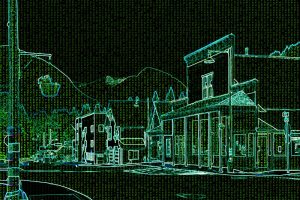 Our basic framework is to provide an overarching design theme "Explore recurring historical themes of human progress on the frontiers of innovation, layering the past with the future", and then recruit artists, technologists, scientists, and designers to take on aspects of that theme, playing with technologically-infused, sensing, interactive and self-illuminated sculptural elements.
As a central orienting piece for the larger group collaboration, we will create three to-scale facades of historic frontier buildings similar to those in the town of Skyomish, with a boardwalk animated by controllable LEDS and the facade surfaces animated with projected videos of life-sized "ghosts" of pioneering figures. The goal is to create the experience of walking on the boardwalk with these historical figures in a "digital frontier" – where the audience participant becomes a part of the community of innovators along the walk. Please see concept design.
In the past two years our group projects focused on leveraging technology as a creative medium to create life-like interactivity embedded in nature. In brainstorming for 2018, we decided to engage more with the history of Skykomish as a frontier town, and turn our attention to the transformative impact humans have on nature as they expand new frontiers through technology. We seek to layer new creative technologies for innovation such as controllable LEDs, laser cutters, and projection mapping, over turn of the century technologies such as trains and telegraphs, to evoke an awareness and interest in the recurring historical themes of human progress on the frontier. We further seek to celebrate the intrepid spirit of pioneers who have created new territories for exploration and human progress in the Pacific Northwest over the past century, and will continue to do so in years to come.