For Electric Sky 2018,  our collaborative installation will be oriented around the theme "The Digital Frontier",  celebrating the pioneering spirit of those who push the bounds of possibility by innovating on the frontier of technology.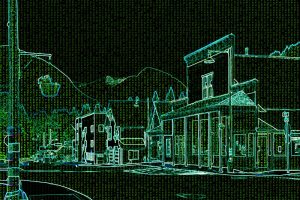 The Digital Frontier at Electric Sky in 2018
For this group installation, our basic framework is to provide an overarching design theme "Explore recurring historical themes of human progress on the frontiers of innovation, layering the past with the future", and then recruit artists, technologists, scientists, and designers to take on aspects of that theme, playing with technologically-infused, sensing, interactive and self-illuminated sculptural elements.
We encourage people's works to fit into a larger experiential narrative that evokes an awareness and interest in the people, technologies, and pioneering spirit that have transformed the coastal Northwest. Participating artists and technology creatives may include sound, video, performance, landscaping, architectural elements, in addition to visual art, however all projects will incorporate an electronic, sensing, interactive, or self-illuminated component. We will recruit participating artists by invitation from our extensive network of connections in the art/tech space in the Northwest, combined with an open call for participation with a juried selection to create a channel for new and emerging artists. We will further seek to actively engage the local Skykomish community to bring their perspective to our collaboration as residents of the historic frontier town.
Call for Participation — Apply for a Microgrant!
If you are excited by the idea of creating an individual or collaborative project around our theme "the Digital Frontier" we invite you to apply to be a supported participating artist or creative technologist, to receive free tickets and funds to support your project. Participating artists and technology creatives may include visual art, sound, video, performance, landscaping, architectural elements, and so forth, however all projects should incorporate an electronic or interactive component consistent with the theme.   Learn more about our requirements and find instructions to apply here.  Application date is April 30th, 2018.
Digital Frontier Leadership
Shelly Farnham will be the creative director for this project, Jeff Larson a lead artist/designer, and Brandon Traynoff a lead carpenter/builder. They and other members of our Totally Legit art group will provide the basic design framework, infrastructure, and lighting. As a central orienting piece for the larger group collaboration, we will create three to-scale facades of historic frontier buildings similar to those in the town of Skyomish, with a boardwalk animated by controllable LEDS and the facade surfaces animated with projected videos of life-sized "ghosts" of pioneering figures. The goal is to create the experience of walking on the boardwalk with these historical figures in a "digital frontier" – where the audience participant becomes a part of the community of innovators along the walk. Please see concept design (image #01).
The Digital Frontier at Electric Sky
We will leverage the structure of the Electric Sky event and optimize The Digital Frontier collaboration experience to further our goals of a) fostering multi-disciplinary art and tech community in the Pacific Northwest, and b) accelerating the unexpected innovation that evolves through interdisciplinary work. Recruiting and calls for participation in the collaboration will start in early February, and planning will continue throughout the summer, ending with our on-site collaboration in the Electric Sky creativity lab the Thursday-Sunday of the event. As a part of helping artists learn how to use technology in their works, we will host at least one evening how-to workshop (controllable LEDS, sensors, laser cutters) in a maker space in Seattle and a community center in Skykomish in the Spring of 2018. The installation will be completed by Saturday at sunset, at which point it will be open to the public. Following the event, we also hope to reach a larger audience through events such as Lusio and Arts-a-Glow, as we have the past two years.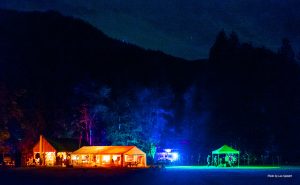 Background — More about installations at Electric Sky
In collaboration with the nonprofit community tech organization Third Place Technologies, we host Electric Sky, an art and tech weekend retreat bringing together artists, technologists and other interested parties to collaboratively engage with each other in new and exciting ways. This event is a cross between an artists' retreat and a hackathon, with the goal of fostering interdisciplinary creativity and collaboration in an inspiring environment, leading to new, generative work. It is held in the Skykomish Ball Park, a softball field an hour and half northeast of Seattle on highway 2, in the middle of the woods, on the Skykomish River, sandwiched between two national forests.
Since 2014, over a hundred people have participated each year, an unusual mix of Seattleites and Skykomish locals, with about 25% of the attendees being under 18 years of age. We have a 24 hour Creativity Lab, a madhouse of electronics, laptops, Arduinos, CNC routers, LEDS, lasers, and 3D printers, mixed with a more traditional array of art supplies. To facilitate team formation and community building we start the event with a round of introductions and project pitches, have one large group meal, and finish the event with our group installation (The Luminous Garden in 2016, and The Wondering Woods in 2017). Each year the event has been a resounding success, and the Town of Skykomish now endorses our coming back annually as a town-sponsored event.
In the past two years, our group installations "The Luminous Garden" and "The Wondering Woods" (funded in part by 4Culture) were central organizing features of Electric Sky, greatly helping to foster interdisciplinary collaboration. Last year we had over 80 participating artists, technologists, and designers actively collaborating, learning from each other and creating inspiring works around a shared narrative. It was very well-received by locals in Skykomish, and enjoyed by thousands when installed later in the summer at Lusio (Volunteer Park) and Arts-a-Glow (Burien).
In the past two years our group projects focused on leveraging technology as a creative medium to create life-like interactivity embedded in nature. In brainstorming for 2018, we decided to engage more with the history of Skykomish as a frontier town, and turn our attention to the transformative impact humans have on nature as they expand new frontiers through technology. We seek to layer new creative technologies for innovation such as controllable LEDs, laser cutters, and projection mapping, over turn of the century technologies such as trains and telegraphs, to evoke an awareness and interest in the recurring historical themes of human progress on the frontier. We further seek to celebrate the intrepid spirit of pioneers who have created new territories for exploration and human progress in the Pacific Northwest over the past century, and will continue to do so in years to come.