The primary goal of this art and tech weekend retreat is to foster the community of innovators at the intersection of art and technology in the Pacific Northwest who use emerging technologies to open up new domains of creative expression.  Over the years, Electric Sky as evolved into an arts incubator, a supportive environment to develop new works.   This event is for artists, technologists, designers, scientists, hackers, makers, and other hybrid creatives who recognize that some of the most inspiring innovations emerge from collaborating across traditional disciplinary boundaries.  Through the immersive experience of an artist retreat, structured much like a weekend hackathon, we seek to create an environment where members of this community may find each other, develop trust, collaborate, be inspired, and innovate.
Background
As the technology industry in the Pacific Northwest has grown, so too has the arts culture become increasingly infused with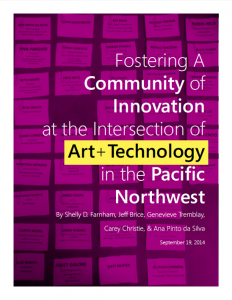 technology as a medium for creative expression.   In the summer of 2014, a cross-organizational group including individuals from Microsoft Research, Cornish College for the Arts, and The Stranger Genius Awards organized a workshop bringing together key stakeholders in the region to map out the art and technology space, discuss the collective agenda of the community, and spark next steps for actively achieving these goals.  Please see the full report generated from the workshop: "Fostering a Community of Innovation at the Intersection of Art + Technology in the Pacific Northwest"  by Shelly Farnham, Jeff Brice, Genevieve Tremblay, Carey Christie, & Ana Pinto da Silva.
An important theme emerging from this workshop is that while there are a number of organizations and individuals practicing at this intersection of art and technology in the Pacific Northwest, there is a need for more awareness and communication across individuals and organizations to nurture this growing community.   In brainstorming concrete next steps, events emerged as important venues for creating opportunities for individuals to connect.  When people are fully engaged in discovering and sharing new skills, they create an energizing environment for collaboration, stitching people together into stronger communities.
Why Skykomish and the Sky Art Week?
The Sky Valley is home to many artists who believe the beautiful environment, the river, and the historic towns make the area an inspiring place to create art, including Sky Art Week organizer Beanne Hull and Electric Sky  lead organizer Shelly Farnham.  The Sky Art Week is in its sixth year, and has a very similar mission — to help stronger communities form by engaging artistically with the local environment through a series of educational workshops.  Artist and teacher Beanne Hull has organized Sky Art Week from its beginning, with support from 4Culture, the town of Skykomish, the Masonic Hall, the Skykomish Historial Society, and student volunteers.  Beanne and Shelly met at a meeting of the Skykomish Historical Society, in early 2015, and when Beanne suggested Shelly teach one of the workshops, Shelly suggested extending the event through the weekend by appending an art camp/hackathon.
More about the Organizers 
Third Place Technologies is a nonprofit organization focused on exploring new ways to leverage social media, open data, and collective action technologies toward a smarter, better society.   They are currently focused on fostering innovative communities of practice in the Pacific Northwest, including the art and tech and civic tech communities.
Totally Legit (formerly Recreational Light and Magic) is a Seattle-based, interdisciplinary group of artists, technologists, designers, builders, and community organizers who share a passion for collaborative installations at the intersection of art, technology, and the built environments. They have strong ties to the town of Skykomish as the home of their Skywalker Cabin, a creative collaboration retreat space.  Recent projects include Attacks from Mars, a giant pinball machine with interactive lighting, The Skykomish Bridge Project, a public art installation transforming the Skykomish bridge through reactive lighting, and the Zymphonic Wormhole, a giant wormhole structure with reactive lighting and sound, for which they received a grant from Burning Man.  See http://TotallyLegitLLC.com.

Shelly Farnham is an artist, technologist, community organizer, and founder of Third Place Technologies — and the lead organizer for Electric Sky.   She has a B.A.  from Georgetown University double majoring in Fine Art (oil painting) and Psychology, and a Ph.D. in Social Psychology from the University of Washington, leading to a career in community technology R&D.  While working as a research scientist in technology research labs in the past fifteen years, her artwork has simultaneously evolved into large scale, collaborative installations, many of which incorporate interactive technology and social media.   As a community organizer she has played the lead role for many arts organizations, arts fundraising events, art exhibitions,  and large scale art projects.  Most recently, her organizing efforts have focused on developing the community of people in the Pacific Northwest at the intersection of art and technology, such as the recent Art and Technology Workshop, 5 years as Dorkbot lead, curated exhibitions including Oscillate, Winter Lights, and People Doing Strange Things with Electricity, the formation of her art/tech group Totally Legit (formerly Recreational Light and Magic), and a one day arts/tech conference called Frayed Wire.  Learn more about her career as an artist at http://ShellyDianeFarnham.com, and her career as a scientist/technologist at http://thirdplacetechnologies.com/shelly-farnhams-biographical-statement/.